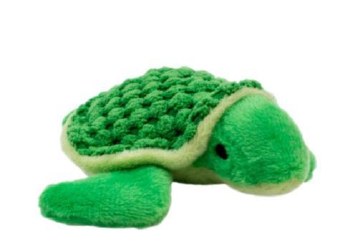 Tall Tails - Plush Turtle - Dog Plush Toy - 5"
Product Code: 34192
$9.99
Continue the adventure indoors with Tall Tails' Baby Turtle With Squeaker toy! Throw, squeak, snuggle, repeat — this plush toy is made with you and your pup in mind. Fashioned for endless interactive play and cuddles, our plush toys make for paw-fect comforting companions. In addition, our squeakers are sewn into a separate pouch and stitched into the seam for extra protection.

Playtime is a core pillar of your dog's overall health and wellness. Making time every day for interactive play between you and your dog is reccomended. Playtime together reinforces the special bond you share with your furry friend and provides your dog with the vital stimulation and exercise they need. Tall Tail's Plush Toy line is designed with cuddles and interactive play in mind. Made with sturdy materials, stitched together, to be your pup's new favorite toy to cuddle, retrieve, and tug.

- 5" baby-soft plush squeaker toy for comforting companionship.
- Crafted with reinforced mesh fabric for reassured durability and endless hours of fun.
- Squeaker is sewn into separate pouch and stitched into seam for extra protection.
- Ideal for small dogs that love to cuddle and snuggle.
- Bring the experience of nautical adventure to your seafaring pup.
- Machine wash and dry for easy clean up.