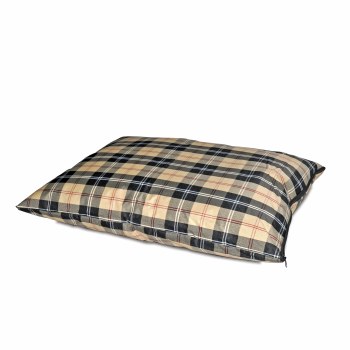 K&H - Indoor/Outdoor Single Seam Bed - Tan Plaid - Large
Product Code: 2-22030
$42.99
Your dog will love the feel of our cozy, yet durable Indoor/Outdoor Single-Seam Bed. This bed is filled with an extremely soft and comfortable poly-fil stuffing made from recycled bottles. Place one outside on your deck or in the garage or anywhere your furry friend likes to lounge and let the durable fabric do its job. Not only is it completely waterproof, but the bed is extremely easy to care for with a removable cover for washing.

Our single seam indoor/outdoor beds are available in a tan plaid or brown plaid pattern in both small and large and can add a nice touch to the inside or outside of any home. The bed's attractive plaid pattern can make the perfect addition to compliment a cabin or vacation home in the woods, and your dog will be thankful you thought of him too! This product comes with a 1-year limited warranty.

- Great for indoors and outdoors

- Durable, attractive plaid material

- Completely waterproof

- Cover is removable for washing

- One year limited warranty

Washing Instructions
Remove the cover and wash it on the gentle cycle with cold water. Line dry or use the no-heat cycle on your dryer.

Dimensions
35" x 44" x 4"