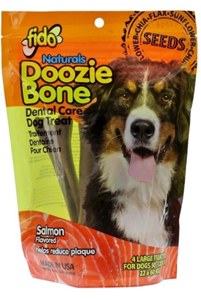 Fido - Dog Treats - Doozie Bones - Salmon - Large - 4 pack
Product Code: 25761
$8.99
Doozie Bones are Dental Care Dog Treats that help reduce plaque. Made with added seed flour for healthy and happy dogs, these bones are pressure molded not baked. They taste great, are healthy and safely digest, unlike rawhide that have a risk of blockage. Please always supervise your pets so they do not gulp the treats without chewing them first. Proper size of treats depending on breed is recommended.

Ingredients:
Potato flour, rice flour, vegetable glycerin, potato starch, natural flavor, sunflower meal, chia seed, flax seed, kelp, canola oil, salmon meal, lecithin and citric acid(preservative).

Calorie Content: 215 kcal/bone

Large bones measure 5-3/8"