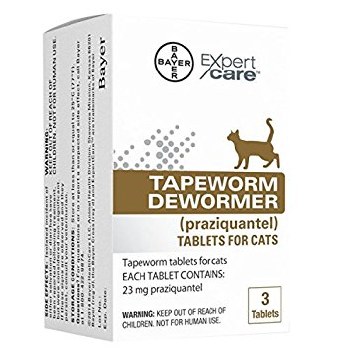 Bayer - Tapeworm Dewormer for Cats - 3 pack
Product Code: 25668
$22.99
- Removes tapeworms (Dipylidium caninum and Taenia taeniaeformis)
- Contains 23 mg praziquantel per tablet
- Administer orally in cats and kittens 6 weeks of age and older

Effectively remove tapeworms with Bayer Tapeworm Dewormer Tablets. Administer orally. Tablets may be crumbled and mixed with a small amount of food. Each tablet contains 23 mg of praziquantel. For cats and kittens 6 weeks of age and older.

Dosage and Administration: Tapeworm Dewormer (praziquantel) tablets may be given directly in the mouth or crumbled and mixed with the food.

Each tablet contains 23 mg praziquantel.

Fasting is neither necessary nor recommended.

Steps should be taken to control fleas and rodents on the premises in order to prevent reinfection; otherwise, retreatment will be necessary. This is especially true in cases of tapeworms transmitted by fleas (Dipylidium caninum) where reinfection is almost certain to occur if fleas are not removed from the animal and its environment. If reinfection occurs, tapeworm segments may be observed within one month of the initial treatment.
Side Effects: Isolated incidents of either salivation or diarrhea have been reported following treatment, but were considered non-significant. If these signs are observed and they persist, consult your veterinarian.